What is an ACH Transfer?
An ACH transfer is one of the main ways to send or receive money online.
Automated Clearing House transfers account for the online bill payments you make to your HOA dues. ACH debit transfers, including payroll direct deposits and most bill payments, are typically free. If you need expedited bill payments, there can be fees.
The simplest way to set this up is to walk over to your bank and tell them you want to set up an ACH bank-to-bank payment. Be sure you have the ROUTING NUMBER  and ACCOUNT NUMBER  of the HOA bank (you can get this from Alpha Management) and your personal ACCOUNT NUMBER (you can get this from your check book). They can set this up for you and you can choose if you want to pay manually online and/or set it up so you automatically pay at a specific day of every month.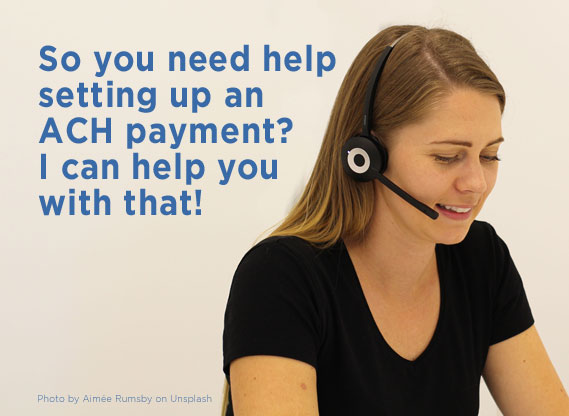 The most important information you should have are:
Your Account Number (Bank ONE) –
your bank where you will be sending the money from
The Routing Number of the HOA bank (Bank TWO) –
Each bank has its own routing number so out of all the different banks in the world, which bank you want your money to go to.
The Account Number of the HOA bank (Bank TWO) –
out of all the accounts in this bank, which account you want your money to go to.
Sample Procedure to Set Up ACH
Below is a step-by-step instruction on how to set up your ACH transactions online if you are using Chase Bank. We will be using screenshots taken from Chase Bank. Other banks should have similar procedures; but to be sure, please call your bank.
STEP 1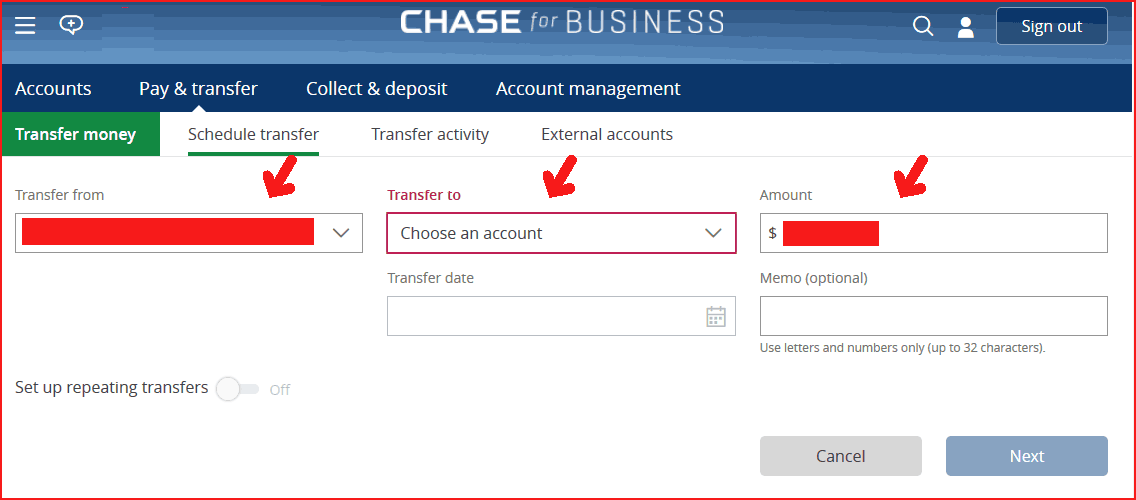 TRANSFER FROM: Indicate the source of which of your accounts (ex. from your checking or savings account) you want to take the money out from.
TRANSFER TO: Choose if you want to transfer to an internal  or external bank.
AMOUNT: Indicate how much you want to pay.
STEP 2

Your bank may warn you that you are being directed to another website, that should be fine since you entered legitimately to your online bank account.
STEP 3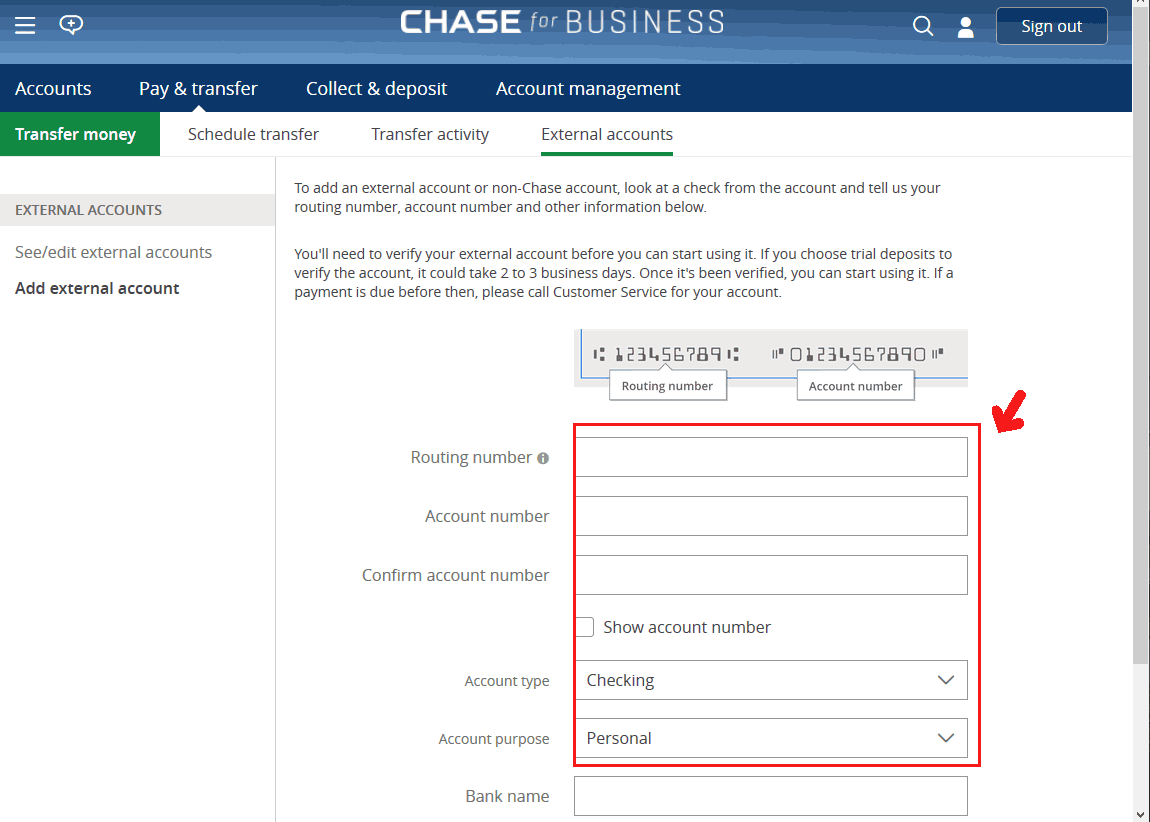 Fill out the following:
Routing number of the HOA bank: (ex. 122244249)
Fill out the Account number of the HOA bank: (ex. 123456789)
Account type: Checking
Account Purpose: Personal
If you put in the correct routing number, the Bank Name should appear in that box
The rest of the blanks should be pretty straightforward
STEP 4

The most convenient choice is to VERIFY NOW. If you choose that, you will need to enter the LOGIN and PASSWORD that you use when you go online to your bank.
Choosing to verify in 1-2 days will require a more complex procedure. We do not recommend it.
After you have established this link between your bank and the HOA bank, you should be able to make your first payment. Later you will be able to specify the frequency of your payment.
That's it! Good luck!
Note: These instructions are meant as a guide. Procedures may vary with different banks. Alpha Management will not be held responsible for any inaccuracies.